5-Star Safety Ratings – Planned Changes
The U.S. Department of Transportation (DOT) has proposed changes to the National Highway Traffic Safety Administration (NHTSA) 5-Star Safety Ratings for new vehicles.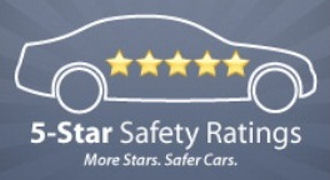 Also known as the New Car Assessment Program (NCAP), NHTSA has been rating the safety of new vehicles on a 1 to 5 star scale since 1978.  The ratings help consumers choose a safe vehicle and encourage manufacturers to improve the safety of their vehicles.
Currently, the ratings are based on how well a vehicle protects occupants in frontal and side collisions and its resistance to rollover.  The proposed changes include adding a frontal oblique crash test, using improved crash test dummies, protecting pedestrians in collisions, and rating crash avoidance technologies such as rear visibility cameras and lane departure warning systems.
NHTSA intends to issue a final decision notice on the planned changes by the end of this year and expects the new rating system to be in place for vehicle model year 2019.
The NHTSA press release and details of the planned changes can be viewed here.
Vehicle safety ratings can be accessed through the NHTSA 5-Star Safety Ratings program as well as through the Insurance Institute for Highway Safety's Top Safety Pick awards.  See the Quick Links on the right side of our webpage.