Trial Lawyers Association of BC

Proving Physical and Psychiatric Injuries:
Advances in the Law and Medicine

December 1st - Vancouver, British Columbia
We would like to invite all attendees to visit our booth at the upcoming TLABC seminar.  Collision Analysis has extensive experience in injury biomechanics and we welcome the opportunity to discuss your case or to arrange one of our free seminars.  Don't forget to enter your name for our prize draw while you're there!
We hope to see you at the Vancouver Convention Centre!
Collision Statistics
The U.S. Department of Transportation's National Highway Traffic Safety Administration has released fatal collision statistics for the year 2016.  The data shows that the disturbing trend of increasing traffic fatalities is continuing in the United States after years of almost steady decline.
There were 37,461 people killed on U.S. roadways in 2016, an increase of 5.6% from 2015.  The fatality rate per 100 million vehicle miles travelled rose by 2.6%. Once again, increased fatalities occurred in almost every segment of the population, including occupants in passenger vehicles and large trucks, motorcycles riders, bicyclists and pedestrians.
While deaths related to distracted driving and drowsy driving decreased by 2.2% and 3.5% respectively, fatal collisions related to alcohol impairment, speed, and lack of restraint use increased.
Updated injury statistics are not yet available.  Data from 2015 showed a 4.5% increase in collision injuries.
Canada has not released any new collision statistics since we last reported on this topic in July of this year.  The most recent numbers from 2015 did not show the same marked upsurge in deaths and injuries as our southern neighbours.  Here in Alberta, the most recent data showed dramatic decreases in traffic fatalities and injuries from 2014 to 2015 (10.6% and 4.5% respectively).
For more details, go to:
National Highway Traffic Safety Administration
On-Scene – Fall 2017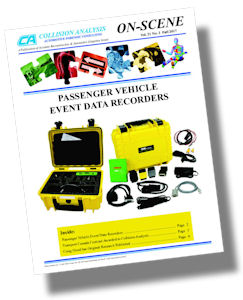 Our Fall issue of On-Scene has just been published!  It's been nearly 15 years since our first article about Event Data Recorders (EDRs or "black boxes).  Much has changed since then, so we thought it was time for another feature article.  If you want to learn more about the history and uses of EDRs, we encourage you to read our updated article.
If you're not already on our mailing list, click here to subscribe to On-Scene free of charge!
Transport Canada Contract Renewed
Collision Analysis' Canadian office is honoured to have again been selected to conduct field investigations of motor vehicle collisions and safety-related defects in the Western Canada region for Transport Canada.
You can read more about our Transport Canada work here, including the types of collisions we will be investigating.
New Recommendations for Car Seats and Booster Seats
Kids are heading back to school after summer break, and this means many will be transported back and forth daily in passenger vehicles.  This is a good time to remind parents and care givers of the importance of properly securing children for every trip, at every age.
Earlier this year, Alberta Health Services (AHS) updated its car seat and booster seat recommendations to help parents determine the safest way of transporting their children.
The new recommendations focus on keeping a child in each stage of car seat (rear-facing, forward-facing, booster) as long as possible, until they've outgrown the car seat manufacturer's height or weight limit.
AHS made a significant change regarding rear-facing child seats. The previous recommendation was to keep children rear-facing until they were at least age one, weighed 10 kg (22 lb) and were walking.  The new recommendation is that children remain in rear-facing seats until at least age two or until they reach the car seat's height or weight limit.
Additional information about child car seat safety can be found on the Transport Canada website.