Strengthening the Motor Vehicle Safety Act and ushering in new automotive technologies
Bill S-2, Strengthening Motor Vehicle Safety for Canadians Act, passed third reading in the House of Commons after a unanimous vote from all Members of Parliament on January 31, 2018.  With this approval, the bill could soon become law and would allow Canada's Minister of Transport the power to order that a manufacturer issue a recall for a vehicle safety defect or non-compliance.  As it stands now, if a manufacturer does not voluntarily issue a recall, the only recourse is to take the company to court.  Under the new bill, the manufacturer could be fined up to $200,000 per day, per violation, for any actions that contravene Canada's Motor Vehicle Safety Act.
In addition, the bill will allow the Minister to exempt certain vehicles from safety standards in the case where it would promote technological development.
And on the topic of technological development, the Standing Senate Committee on Transport and Communications has just issued a report on the regulatory and technical issues related to the deployment of automated and connected vehicles.  The study, Driving Change: Technology and the Future of the Automated Vehicle, reports that along with the safety advantages of driverless and connected vehicles, there are numerous concerns such as job losses, privacy, cybersecurity, and infrastructure.  The committee feels there is an urgent need for all three levels of government to plan for the arrival of these technologies and has made 16 recommendations to the federal government "to help build a coordinated national strategy on automated and connected vehicles."
Trial Lawyers Association of BC

Proving Physical and Psychiatric Injuries:
Advances in the Law and Medicine

December 1st - Vancouver, British Columbia
We would like to invite all attendees to visit our booth at the upcoming TLABC seminar.  Collision Analysis has extensive experience in injury biomechanics and we welcome the opportunity to discuss your case or to arrange one of our free seminars.  Don't forget to enter your name for our prize draw while you're there!
We hope to see you at the Vancouver Convention Centre!
Collision Statistics
The U.S. Department of Transportation's National Highway Traffic Safety Administration has released fatal collision statistics for the year 2016.  The data shows that the disturbing trend of increasing traffic fatalities is continuing in the United States after years of almost steady decline.
There were 37,461 people killed on U.S. roadways in 2016, an increase of 5.6% from 2015.  The fatality rate per 100 million vehicle miles travelled rose by 2.6%. Once again, increased fatalities occurred in almost every segment of the population, including occupants in passenger vehicles and large trucks, motorcycles riders, bicyclists and pedestrians.
While deaths related to distracted driving and drowsy driving decreased by 2.2% and 3.5% respectively, fatal collisions related to alcohol impairment, speed, and lack of restraint use increased.
Updated injury statistics are not yet available.  Data from 2015 showed a 4.5% increase in collision injuries.
Canada has not released any new collision statistics since we last reported on this topic in July of this year.  The most recent numbers from 2015 did not show the same marked upsurge in deaths and injuries as our southern neighbours.  Here in Alberta, the most recent data showed dramatic decreases in traffic fatalities and injuries from 2014 to 2015 (10.6% and 4.5% respectively).
For more details, go to:
National Highway Traffic Safety Administration
On-Scene – Fall 2017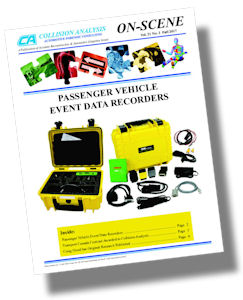 Our Fall issue of On-Scene has just been published!  It's been nearly 15 years since our first article about Event Data Recorders (EDRs or "black boxes).  Much has changed since then, so we thought it was time for another feature article.  If you want to learn more about the history and uses of EDRs, we encourage you to read our updated article.
If you're not already on our mailing list, click here to subscribe to On-Scene free of charge!