Marshal H. Paulo, M.Sc.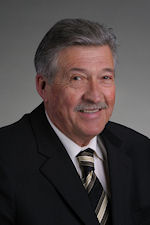 (1948 - 2013)
Founder, Mentor, Friend
Marshal Paulo's automotive forensics career began in 1976 with Transport Canada's road safety team, where he reconstructed motor vehicle collisions and performed vehicle defect investigations, some of which resulted in landmark recalls within the industry. Recognizing a need for specialized automotive forensic consulting, he formed Collision Analysis Ltd. in 1979. A California office was opened in 1988.
Mr. Paulo earned his Masters of Science in Safety at the University of Southern California, graduating with honours. His area of specialization encompassed safety system design, human performance engineering, and biomechanics. Other educational credentials included post-graduate studies at the University of Calgary in biomedical engineering.
In his 30-plus years in the field, in addition to reconstructing vehicle, boat and personal watercraft collisions, Mr. Paulo provided expertise in the product performance and failure of airbags, seatbelts, child restraints, seat systems and other occupant protection systems. He also consulted in the areas of injury biomechanics and human factors. He was involved in many automotive and marine product liability cases. Below are a few examples that resulted in multi-million dollar verdicts.
Cuenllas v Yamaha (personal watercraft off-throttle steering issue)
Sasser v Ford (rear seatback latch failure causing paraplegia)
Karlsson v Ford (centre-rear lap belt causing paraplegia)
Marroquin v Ford (seatbelt design leading to partial ejection)
Mr. Paulo had extensive expert testimony experience with his evidence being accepted on behalf of both plaintiff and defence in courts throughout Canada and the United States.
Marshal Paulo passed away on July 22, 2013, from complications following a cardiac arrest. More than a mentor, he was a friend to all at Collision Analysis and is sadly missed.