News
August 18, 2016
New IIHS Headlight Ratings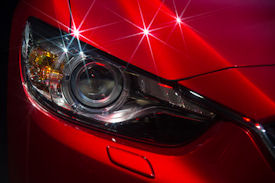 In March, the U.S. Insurance Institute for Highway Safety (IIHS) announced that it implemented a first-ever headlight rating system. They tested 31 new midsize cars with every possible headlight combination available for a total of 82 ratings.  Only one vehicle earned a good rating.  Eleven earned an acceptable rating and 10 vehicles couldn't be purchased with anything but poor-rated headlights.
The Institute has now released headlight ratings for small SUVs.  Of the 21 SUVs tested with 47 headlight combinations, not one earned a good rating.  More than two-thirds were rated poor.  Only four vehicles were available with headlights rated acceptable.
Headlights were evaluated on a test track and rated for performance on five approaches: straight, a sharp left curve, a sharp right curve, a gradual left curve, and a gradual right curve.  Both high and low beams were tested, and low beam glare for oncoming vehicles was also evaluated.
The IIHS found that neither higher vehicle cost nor newer technology, such as LED or curve adaptive systems, guaranteed better headlight performance.
The Institute reports that about half of traffic fatalities occur from dusk to dawn, and they are hopeful that their new rating system will encourage manufacturers to improve their headlight systems, leading to reduced collisions.
For more information on the IIHS's headlight ratings, click on the following links:
First-ever IIHS headlight ratings show most need improvement
Most small SUV headlights rate poor in IIHS evaluations